One of the purposes of the FCI is to encourage interest in, and knowledge of, the fan. This is done in a number of ways including supporting initiatives that involve design:
Commemorative Fans for AGMs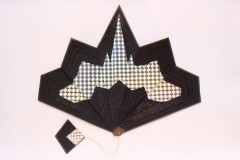 For a number of years after 1987, commemorative fans were made for AGMs. These were designed and made by member and artist, Lorraine Taylor-Kent in limited editions.
FCI 40th Anniversary Fans, 2015
In 2015 the Fan Circle celebrated its Ruby Anniversary.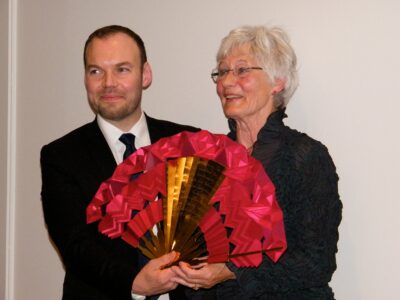 To mark the event, a fan was commissioned from Parisian Fan Maker and Maître d'Art, Sylvain Le Guen. Sylvain Le Guen, a member of FCI, created the fan to showcase a number of different fan-making techniques. Made of a gold metal with a ruby-coloured silk leaf, the fan takes the form of an arrow when closed and opens to reveal elements of four different types of folding fan:
The upper panel is folded like Origami, 'popping-up' to make the fan three-dimensional.
The middle panel is comprised of individual shapes attached to each stick but not to each other, like a 'palmette' fan.
The central section with gold metal sticks engraved to celebrate the anniversary are linked together in the 'brisé' technique.
The fan has the appearance of a 'cabriolet' fan.
The various pieces of the silk leaf have been cut in different directions to reflect changing light and the diversity of rubies.
The fan was presented by Sylvain Le Guen to the incumbent FCI President, Drs. Fransje Hovinga van Eijsden at the AGM in May 2015 in Bedford.
Also marking the event, FCI member and artist, Lorraine Taylor-Kent created a one-off 'display fan' for auction at the event. The shiny black Perspex type sticks and guards support a black and sheer net leaf appliquéd with red gauze folding fans, handscreens and the FCI logo.
Fan-making competition at Ecole Duperré, Paris, 2017
In 2017 FCI worked with the Ecole Supérieure des Arts Appliqués Duperré in Paris to initiate a competition for students in fan making. The project resulted in entries from 17 First and Second Year students who, employing a wide variety of different techniques, succeeding in skilfully adapting the craft of fan making to the 21st century.
The competition, judged by a panel of FCI members, awarded:
First prize to Marguerite Rivasson for 'Weapon Fan'
Joint second prize to Juliette Laville for 'The Mechanical Fly'
Joint second prize to Julie-Louise Zeitoun for 'Pentimento'
Members' Choice to Ophélie Adzic for 'Architectural Chrysalis'
Fan design competition at Shipley College, Leeds, 2010
In association with the Art and Design Design Department at Shipley College, Leeds, in 2010 FCI organised a fan design and making competition with 16-18 year old students. The brief was to create a fan, or fans, from recycled materials.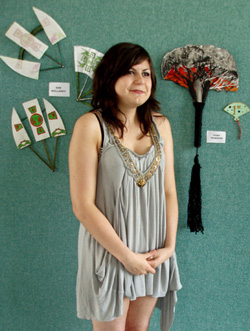 The first prize was awarded to Vicky Peckover for a large fixed fan in the shape of a tree at sunset, and second prize went to Steph Hawksworth who created several fans.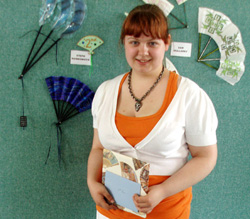 Fan-making competition at Glasgow School of Art, 2002
In 2002, FCI sponsored a competition with students at Glasgow School of Art to create a fan that could be functional. Students from the Department of Silversmithing and Jewellery and the Department of Textiles were eligible to participate, resulting in a large and high quality number of entries.
The Silversmithing and Jewellery class prizes went to:
Julie Harvey for a paper cockade fan in a silver holder on a necklace
Al Morita for a blue and white cockade fan carved like a cameo
The Textile class prize was won by Ranli Weerasinghe for a fixed fan inspired by a dragonfly.